Secrets of the Universe (SOTU) was exhibited at the Berlin Festival Art Village located at Flughafen Tempelhof in Berlin Germany on 9/6 – 9/7.  "The paintings explore topics on the physics of the universe: including the birth and death of the universe, dark matter, the first law of thermodynamics, the smallest particles in the universe, the inner life of quarks and entropy. To enter the exhibition is to become a planet entering a new universe. Interact with the paintings as your internal gravity changes the lighting in each work based on your movements, and explore the mysteries of the universe."
"Berlin Festival's Art Village will be even more colorful with more installations and an even more diverse art display than in previous years. Above all, it will do its name justice in 2013 by becoming more of a village than ever before. Airport Tempelhof will see a church emerge in between the hangars, a pub, a circus tent for poets, a market square, a dance arena as well as a swimming pool equipped with a sauna. The Art Village is a 'Gesamtkunstwerk' with every installation contributing its own, unique vision of art."  More information here:  http://www.berlinfestival.de/en/info/art-village.html
Exhibition and festival pics:
Art Village 2013: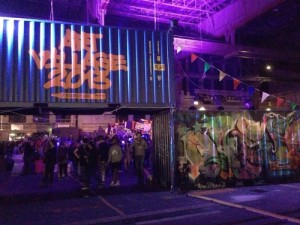 Makeshift helmets for the painting brains:
Paintings getting mounted and wired to walls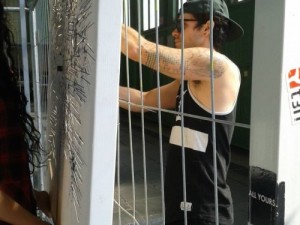 PITA.  But a work of art itself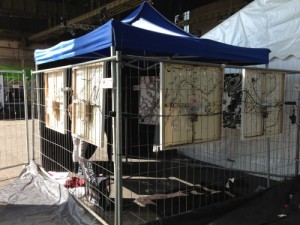 Open for business, 6 hours later…
Inside. Entropy, Conservation of Energy, and the Big Bang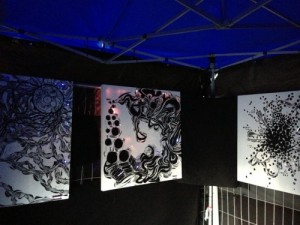 Got to enjoy Bjork at the main stage day 2.